The Monitoring of Professional Careers of WUT Graduates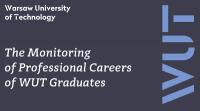 Dear Alumni,
Every Year Warsaw University of Technology conducts very important survey - the Monitoring of Professional Careers of WUT Graduates. The aim of the survey is to get acquainted with the opinions of graduates about the quality of education at the Warsaw University of Technology, as well as to obtain information about their professional situation. In this way, we will collect data useful from the perspective of University Authorities, students and candidates for studies.
We would like to ask about your opinion of completed studies at Warsaw University of Technology by submitting a survey.
There are 2 possibilities to participate:
ON-LINE: Register at Careers Service website: https://bit.ly/2EIea46
OFFLINE: Give proper consent and leave your e-mail address at the Deanery Office while you will be submitting your documents.
We guarantee confidentiality of the implementation of the study, and at the stage of analysis full anonymity.
We send you a link to the survey in the first quarter of the year. Fill out the questionnaire and take part in prize draw – we have many gadgets form WUT's shop to win.